"I Do Think Bruce Arians And Byron Leftwich Got [Tom Brady] To Break Out Of His Shell"
June 12th, 2022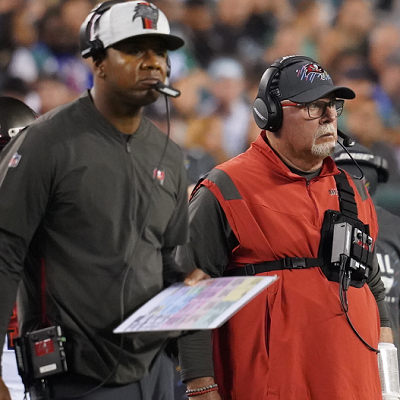 A quarterback guru and a former Patriots assistant coach has a unique perspective on Tom Brady's improvement.
Joe enjoys listening to former Bucs QB Chris Simms break down offenses and quarterback play for NBC Sports. He puts in the film work and always delivers a reasoned rather than a hot take. That doesn't mean Simms is always right, but his arguments are always fresh and unmanufactured, Joe believes.
In the midst of his annual offseason quarterback rankings, Simms found his way to Tom Brady last week on his Unbuttoned podcast.
Brady grabbed the No. 8 slot ahead of Dak Prescott and just behind Russell Wilson.
"He is more aggressive and more a playmaker at the quarterback position now than maybe he's been in the last four, five or six years, " said Simms, who noted Brady at times played conservatively in New England in part because of his confidence in playcalling.
Brady had become so confident in then-Patriots offensive coordinator Josh McDaniels, per Simms, that it created a confidence in Brady to throw balls away because he believed another great playcall was coming on the next play.
Simms prefers the Bucs' version of Brady, which he says rivals the Brady of eight years ago.
"He now makes more throws and changes the game in more positive ways with the Bucs than I feel like he ever did the last few years with the Patriots," Simms said.

"I do think Bruce Arians and Byron Leftwich got him to break out of his shell. To go like, 'Stop worrying if you throw for 73.4 percent [completion rate]. Let's throw for 66 percent and just be more dangerous as an offense and have teams scared. You're making more big plays. Yeah, maybe the ball hits the ground [more].'"
Ironically, Brady's completion percentage last year, 67.5, was the second best of his career — and he threw more passes than he ever had previously. So the aggression suited him well behind an elite pass blocking line.
Brady's arm is still elite, Simms said, and constant Arians-Leftwich prodding to take shots made Brady progressively more aggressive and not worried about being blamed for mistakes coming from aggression — like would have happened in New England.
Joe likes Brady out of his shell, to use the Simms analogy, and Joe expects the Bucs to keep throwing at a tremendous pace. That's also represents the best chance of Brady returning in 2023: success in a high-flying offense.
No quarterback wants to walk away from that.