History Says Todd Bowles Wouldn't Hesitate To Cut Ryan Succop
June 6th, 2022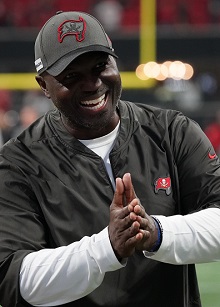 Todd Bowles lived his own kicker circus when he was head coach of the Jets.
It wasn't as bad as the Bucs' historic Ringling Brothers run, but it was hardly smooth and typical sailing during his four-year stint.
Bowles' good veteran kicker when he got the Jets job in 2015 was Nick Folk (before Folk tortured Bucs fans). Folk got hurt midway through that 2015 season and Bowles and the Jets pulled kicker Randy Bullock off the street and he was very solid. Heck, Bullock is still in the league.
But in 2016, Bowles went back to Folk and had kicking ups and downs before claiming kicker Jason Myers off waivers following the 2018 preseason. Myers was given the starting job and whaddya know, Myers made the Pro Bowl for Bowles and has become one of the most accurate kickers in the history of the game.
The point here is that Bowles knows that no-name kickers like Myers shine every year in the NFL. Myers was out of Marist College and cut his professional teeth in the Arena Leauge.
Bucs Super Bowl kicker Ryan Succop is 35 years old and didn't kick a 50 yard field goal last year. He is set to earn about $4 million this season if he makes the team. Young José Borregelas lurks as Succop's inexpensive competition in camp. He was on the Tampa Bay practice squad last season and was honored as 2020's top college kicker.
GM Jason Licht has talked about how he wants competition, and Succop told Ira Kaufman he's expecting a kicking war.
Whatever the kicker decision is, it very well could come down to Bowles going with whom he's most comfortable.
And Joe doesn't not think Bowles would flinch at calling on the untested guy, especially if it meant more salary cap cash to chase a pass rusher or linebacker depth.