Disrespectful To Retire?
June 12th, 2022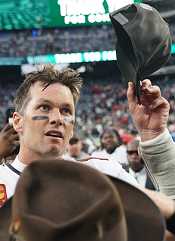 Every other NFL analyst has a Tom Brady theory when it comes to The Goat's football future and his behavior during the past five months.
Joe pays a little more attention to the guys who know Brady or have played with him.
Shane Vereen caught about 200 balls from Brady during his four years with the Belicheats, and he weighed in Friday on Brady while co-hosting on SiriusXM NFL Radio.
Vereen believes Brady saw the 2022 Buccaneers as a chance to come back to a "stacked" roster with a Super Bowl culture as just too much from which to walk away. Brady, per Vereen, combined a pure love for the game and the realization how unique and special his status is as a guy on top of his personal game.
In the mind of Brady, there was a feeling that it would be almost disrespectful for him to retire, Vereen said. "Who am I to not play when I still have something left in the tank when so many past teammates have been pushed out or injured, and not been able to walk away from the game on their own terms?"
Vereen added that Brady is the kind of guy whose fire is lit by the Buccaneers' incredibly difficult 2022 schedule. Brady knows, per Vereen, that teams with tough schedules usually fare best in the postseason.