"You Gotta Perform Or You're Gone"
May 12th, 2022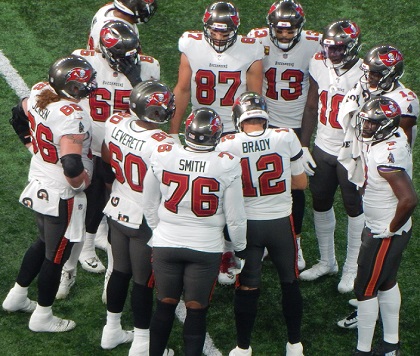 A lot of Bucs fans toss and turn at night wondering who will win the Tampa Bay starting left guard job for opening day.
But deeper thought is required at the position.
With Ali Marpet retired, there will be no gifted job. And offensive line coach Joe Gilbert made it clear this week that Aaron Stinnie, the Super Bowl starter at right guard, will compete with rookie second-round pick Luke Goedeke, Nick Leverett and last year's third-round pick, Robert Hainsey. Combined, the foursome has four career NFL starts, all belonging to 28 year old Stinnie.
Joe will hote there's a lot of love for Hainsey at One Buc Palace and Gilbert even emphasized how Hainsey is "a football junkie" who is "all-in."
Interesting was how Gilbert stressed players are evaluated daily and the initial starter may not keep the job. Protecting Tom Brady leaves no room for error, Gilbert said. "You gotta perform or you're gone."
The three preseason games will be a huge factor, Gilbert said, but Joe thinks the left guard job likely will be decided by the time the Bucs finish scripted practices for two days with the Tennessee Titans before their game in Week 2 of the preseason.
As Joe shared yesterday, a huge NFL voice says the Bucs are expecting/hoping Goedeke takes the job and runs with it.
Enjoy The Latest Ira Kaufman Podcast. It's An Instant Classic.