X-Factor Cade Otton
May 6th, 2022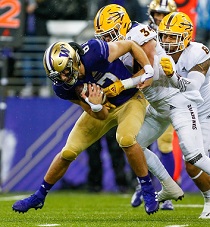 Yes, the Bucs drafted a tight end with the very first pick of Round 4.
Much is known of Cade Otton, but in many ways he's an unknown.
Otton did not perform on the field at the NFL Scouting Combine because he was injured with a broken leg and a sprained ankle. Otton didn't run at his Pro Day, either.
Ask former Bucs tight end Anthony Becht, who mentored this year's crop of college tight ends at the Combine, and he'll tell you that Otton played in a system at the University of Washington that did not play to his strengths. Per Becht's comments on WDAE Radio yesterday, Otton maxed out at Washington because of the limits within their offense.
Now Otton, who stands at 6-5, 250 pounds, has landed in Tampa. His ceiling isn't clear. But he is universally lauded for his complete game and Becht praised his strength on intermediate routes.
With Rob Gronkowski setting himself for a light load in training camp, and Cameron Brate being a fragile nine-year veteran, Joe is very confident Otton will get a ton of work this summer, even with the first team.
That makes Otton a real X-factor for Joe. Otton will get his shot to impress Tom Brady. If Brady likes him, Joe knows Bucs fans will see him on the field more than they expected on the night he was drafted.