Will Leonard Fournette Get A Pitch Count?
May 17th, 2022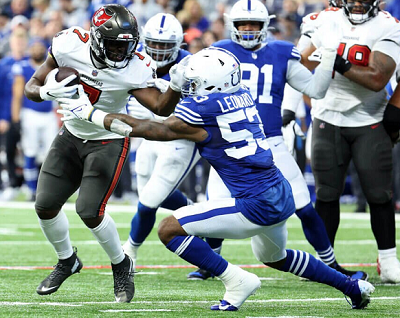 The fantasy football world got a May buzz last week when Todd Bowles declared Leonard Fournette his No. 1 running back.
Yes, that outcome was rather obvious, but the fantasy world doesn't take anything for granted. And one doesn't have to be a fantasy football player to know Fournette has never played a full NFL season, and he was injury-prone in college.
So that has Joe wondering today whether the Bucs will jack up Fournette's workload in this all-in season, or will they keep him on a bit of a pitch count to preserve him for the postseason?
Ronald Jones found 101 carries last season, as Fournette got 180 handoffs and caught 69 balls in 14 regular-season games. Could that be Playoff Lenny's max? Say, 14 or 15 carries a game and five or six targets in the passing game?
Joe is on the fence. The Bucs hammering Playoff Lenny (with his new $7-million-per-season contract) and worrying about January and February — and future years — at their November bye week. But Joe could just as easily see the Bucs staying committed to keeping Playoff Lenny fresh and trying to cap his touches.
Regardless, the Bucs need to replace RoJo, and that might be the most fun competition of spring and summer at One Buc Palace. Ke'Shawn Vaughn has a very hungry rookie behind him. And the Bucs don't love either of those guys enough to ice out Tom Brady-approved Giovani Bernard if he gets hot.
---
Miss it yesterday? Enjoy it today. It's another can't-miss Ira Kaufman Podcast!
Ira Argues A 3-1 Start Versus A 2-2 Prediction, Talks Reality Check On Tom Brady's Future, A Mike Evans Question, Luke Goedeke Fit & Much More