Will Another Big Tight End Deal Prompt Gronk To Want More?
May 28th, 2022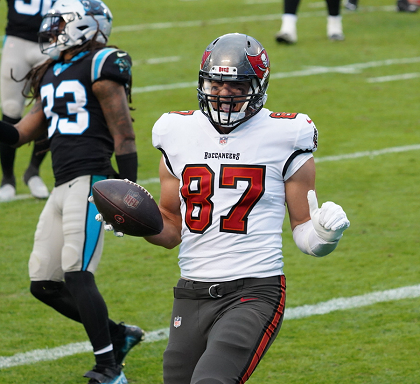 So another gargantuan tight end contract was announced today, and this one goes to a guy who caught only 36 balls for 475 yards and 4 touchdowns last season — paltry numbers compared to what Rob Gronkowski delivered for Tampa Bay.
Yes, Browns tight end David Njoku got a fat deal for $14 million+ per season, including $28 million guaranteed. It's all over NFL Network.
Gronk, however, caught 55 balls for 802 yards and 6 touchdowns in 12 regular-season games last season. That almost makes Njoku look like a junior varsity player. Gronk also added nine catches and a touchdown in two playoff games — all for the bargain price of $8.5 million.
Njoku, per ProFootballTalk.com, is now the fifth tight end earning $14 million or more per season.
Wouldn't it be reasonable for Gronk to see Njoku's deal and want something in the neighborhood, like $11 million plus reachable incentives? Or perhaps he wants the full $14 million?
That would represent a hell of a raise. The Bucs comfortably find the money if they're willing to rework Shaq Barrett or Donovan Smith's contract.
Joe would find it hard to believe the Bucs have drawn a hard line in the sand on how much they'll pay Gronk this season.
Joe has no doubt Gronk wants another year in Tampa and plans to return, but every day that passes potentially makes signing him a more complicated than GM Jason Licht saying, "Gronk, let's do it again. We'll give you a $1 million raise."