Tom Brady Passes On Chance To Praise, Plug FOX
May 23rd, 2022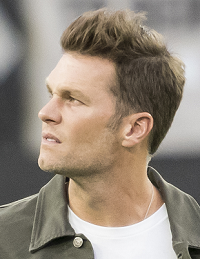 Joe learned a couple of things last night.
First, Tom Brady had dinner with Shaq (The OG version) a few weeks ago.
Yes, Joe's referring to Shaquille O'Neal, not a dude on the Buccaneers roster: Bucs sacks king Shaq Barrett or new guard Shaq Mason.
Second, Joe watched Brady either be uncomfortable admitting publicly that he has a massive contracting awaiting him to call games for FOX Sports and be a FOX ambassador, or he was unprepared to talk about it. Brady appeared on TNT's popular NBA tip-off show with Shaq, Charles Barkley, Kenny Smith and Ernie Johnson. While talking to Brady, Barkley referenced the fat contract awaiting him and The Goat punted.
You can see it in the Twitter video below. Brady didn't take three seconds to thank FOX or praise the network. Brady simply said, "All in due time" and then rushed to change the subject.
Joe wonders if Brady is as uncomfortable with the pending FOX gig as he was with retirement from the Bucs.
Tom Brady got a little awkward when Charles Barkley brought up his Fox contract pic.twitter.com/KBlleQb16n

— Brandon Contes (@BrandonContes) May 23, 2022
---
Enjoy A Fresh Ira Kaufman Podcast! Listen here or on many podcast platforms, or at the JoeBucsFan.com home page.