Tom Brady: I "Relish" The In-game Comeback
May 9th, 2022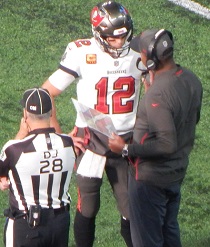 Joe once heard a Peyton Manning interview that included Manning sharing his thoughts on his many fourth-quarter comebacks.
Manning was almost embarrassed by them. He said engineering so many late comebacks meant he and his team played a lot of lousy football in the first half of games.
Tom Brady seems to have a different mentality. Brady is energized by a shot at a tough comeback, and he said he remembers them in great detail.
Yesterday, Brady was chilling with Michael Jordan and other sports legends at the Miami Formula One Grand Prix where he found time to sit down with former Bills and Falcons linebacker Coy Wire, a CNN sports anchor.
A question posed to Brady was about where his mind goes when he's losing by a big margin.
"When I'm losing I focus on, you know, 'how do I just get back in the game?'" Brady began. "I always feel like, I think of the Super Bowl against Atlanta, we were down 25 points. You can't score 25 points in one touchdown. You have to just chip away and you have to get yourself in striking distance. That just comes with a lot of great plays and great confidence in what you're doing.

"I've obviously done it long enough where there's no part of the game where I feel we're ever really out of it. I always feel like we've got a shot until, you know, truly the clock says, 'zero.' We don't always win and that's just part of sports. But I do love and relish when you have the opportunity to come back, too. My last game against the Rams in the playoffs, we were down a bunch of points, we found a way to tie the game. … You don't always win them all. But it's fun to come back when you do, and those are the ones you probably remember the most."
There goes Brady mentioning the sting of that groin-stop Rams loss again.
Joe wonders whether in some twisted, karmic way, the way the Bucs lost against the Rams drove Brady so mad he had to kick retirement to the curb and come back to right the pirate ship.
Enjoy the latest Ira Kaufman Podcast!