The Tougher Yards Went To Ronald Jones
May 23rd, 2022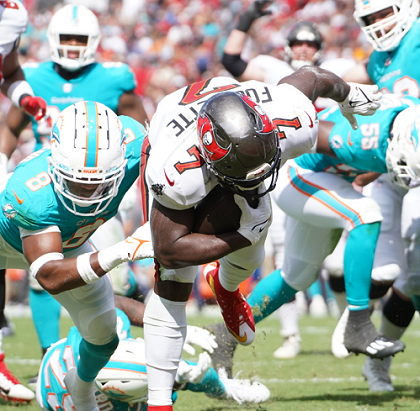 When Leonard Fournette arrived in Tampa, he happily stated that the stacked boxes he ran against consistently in Jacksonville wouldn't be commonplace with the Bucs.
Fournette was right. Playoff Lenny didn't face nearly as many eight-man boxes.
NextGen Stats, an official NFL property that compiles data via tracking technology in game equipment, says Fournette faced an 8-man box just 13.33 percent of the time last season, and it was a shade more than 10 percent in 2020. Compare that to 31.7 percent during his 2019 Jaguars season.
But what's moore interesting to Joe is how former Bucs running back Ronald Jones took on those stacked boxes the past two seasons. Jones faced an 8-man box 22.77 percent of the time last season (21.88 percent in 2020).
So with Jones now playing for the Chiefs, will Fournette be called upon to take on the theoretically greater challenge posed by a stacked defensive front? Or will defenses play the Bucs differently because Fournette is more of a dual threat than RoJo?
Regardless, it's a safe bet that the Bucs will rely on Fournette to absorb more of the ball-carrying load this season and that load will be more challenging.