Saints Draft 5 Players
May 1st, 2022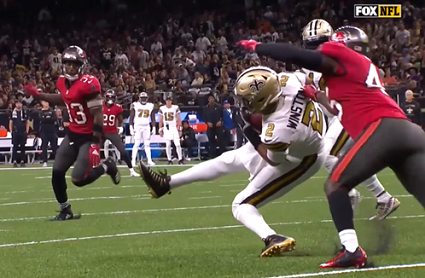 The Slimy Saints are the only legitimate threat to the Bucs defending their NFC South crown, so Joe was paying attention to the New Orleans draft.
First, New Orleans did not draft a quarterback, which many thought they might considering their trade for an additional first-round pick. They seem content with Jameis Winston coming off major knee surgery (ACL) in December, and Taysom Hill also dealing with a major injury. Good luck with that, guys.
So what did the Saints do? Their five picks are below:
Round 1, Pick 11: Wide receiver Chris Olave, Ohio State — An absolute beast of a talent, and he potentially could have a hell of a season if Michael Thomas actually returns — and returns to form.
Round 1, Pick 19: Left tackle Trevor Penning, Northern Iowa — Nice pick, but it's unlikely he's a 2022 upgrade to Terron Armstread, who signed a big deal with Miami. How much fun would it be to see Jameis dealing with a leaky rookie tackle?
Round 2, Pick 49: Cornerback Alontae Taylor, Tennessee — The eighth cornerback drafted is a ballhawk, but doesn't seem to have instant-star potential.
Round 5, Pick 161: Linebacker D'Marco Jackson, Appalachian State — Looks like another special teams ace for one of the NFL's best special teams unites.
Round 6, Pick 194: Defensive tackle Jordan Jackson, Air Force — Versatile, high-motor guy with defensive-end like qualities at 6-4, 294.
Joe does not think the Saints closed the gap on the Bucs this offseason. Joe also will note that the Saints did not draft a running back, which could mean they are not concerned about Alvin Kamara being suspended this season after his battery arrest in February.