Logan Hall: I Want To Live Up To Jason Pierre-Paul's Number
May 13th, 2022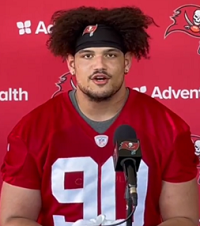 Today was the first practice for the Buccaneers' top rookie, second-round pick defensive lineman Logan Hall, the No. 33 overall pick in the draft.
No pads and no hitting allowed in rookie minicamp, which for the Bucs is a two-day affair. So judging a versatile beast like Hall, who stands 6-6, 283 pounds, is almost a worthless effort. But Hall liked the whole vibe and felt good about his inaugural action on the fields of One Buc Palace.
"It was amazing. It feels good being home out here in Tampa. Yeah, a good solid day's work with the team," Hall said.
It was quickly pointed out to Hall by a reporter that he's wearing No. 90, the number of Jason Pierre-Paul, a Bucs Super Bowl hero who was a beastly Bucs edge rusher from 2018-2020 until a bad shoulder slowed him down considerably last year.
Hall, a very humble young man, recognized JPP and understands what the number on his jersey represents.
"Big shoes to fill, right? I'd love to, you know, live up to that standard and really perform wearing his number. It's an honor," Hall said.
Hall went on to say he's working on being more fluid with his pass rush and he expects plenty of coaching critique to come his way.