It's Buccaneers At Cowboys To Open The 2022 Season; Week 2 Also On The Road
May 12th, 2022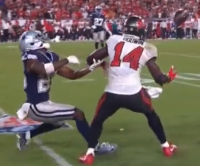 Our beloved Buccaneers are starting the season as road warriors.
First up is a rematch of last year's opening day, but this time the Bucs are traveling to Dallas for a showdown with the Cowboys on Sunday Night Football.
Then they'll stay on the road for a Week 2 clash in New Orleans against Jameis Winston, if he's healthy, and the slimy Saints.
To be the best you've got to beat the best, but it sure would have been a nice tune-up if the Bucs opened with the Panthers at home.
Joe already can envision legions of Bucs fans with their refrigerators stocked with Big Storm beer.
Is it September yet?