"I Don't Want To Talk About If He Doesn't Come Back"
May 10th, 2022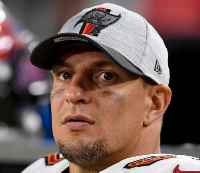 Either there's a state of denial at One Buc Palace or the team knows something it's not sharing.
Future Hall of Fame Bucs tight end Rob Gronkowski is a free agent. The Bucs have made it clear they want him back and they cleared enough salary cap room to pay him, but Gronk has been non-committal in recent months except when it comes to partying.
It's likely Gronk wants to avoid re-signing before mandatory minicamp in early June. Why? Because if he signs afterwards, he can't be fined for skipping those practices.
Joe could speculate many other reasons that Gronk wants to wait to sign for third season with Tampa Bay. The Bucs surely want him in for training camp, where they could go easy on Gronk's body.
Offensive coordinator Byron Leftwich was asked about Gronk's future today and wouldn't go there. "I don't want to talk about if he doesn't come back," Leftwich said.
That just about sums up Joe's attitude. Gronk is irreplaceable in the lineup and irreplaceable as it relates to Tom Brady's confidence.
Joe hopes Gronk signs before training camp, takes the first week very easy and then eases his way in before tune-up contact in the joint practices with the Titans in Nashville. No need for preseason.
Given the slight grin on Leftwich's face, Joe assumes Leftwich knows he'll see Gronk in uniform in late-July.