"Grandpa" Godwin Can't Trash Talk
May 22nd, 2022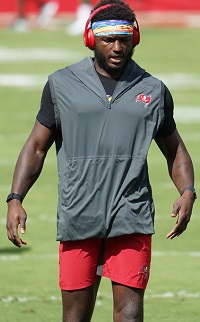 Back in training camp of 2018, Ryan Fitzpatrick was named the opening day starting quarterback thanks to you-know-whos embarrassing three-game suspension.
It was then that Fitzpatrick paid receiver Chris Godwin the ultimate compliment.
"He was really a veteran presence as a young receiver, which has never happened in this league," Fitzpatrick said of Godwin.
That comment really blew Joe's mind. Fitzpatrick was entering his 14th season and was not a guy to sling a lot of BS.
Joe was reminded of this hearing backup QB Ryan Griffin's chatter about Godwin in a promotional video for a recent Ryan Nece Foundation event.
"He came in and acted like a Grandpa," Griffin said of Godwin's rookie demeanor. "We're used to rookies coming in and being a little immature. But Chris from Day 1 has been super mature and I think that's why guys want to follow Chris. Because he always does stuff right; he's always cared more about the team than he cares about himself."
Godwin's wife Mariah spoke about his unselfishness and explained that it's just ingrained in Godwin.
She said Godwin experimented with trash talking in a game last season and came away stunned by how difficult it was. Godwin said it was exhausting, she said, and he came home blown away that any player would have the energy for talking trash.
Griffin went on to describe Godwin as an ultimate leader of young players, always making sure they're not struggling mentally and offering his support.