Fixing The Run Defense
May 16th, 2022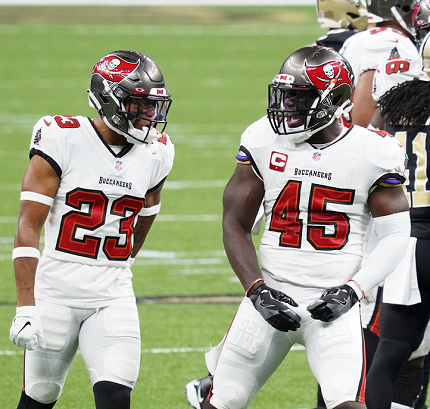 In 2019 and 2020, the Bucs had the best run defense in the NFL. No team allowed fewer yards per carry than Tampa Bay in that span.
Last year was a very different story.
The Bucs ranked 15th in the NFL in yards allowed per attempt. Joe's still not sure what happened in January against the Jets.
While the Antonio Brown freakout is how that New York game will be remembered by all, Joe recalls the Bucs allowing the Jets to rush 26 times for 150 yards and two touchdowns. And their quarterback didn't run for one stinkin' yard!
How did that happen? Joe still isn't sure, and Pro Bowl nose tackle Vita Vea played nearly two-thirds of the snaps against the Jets (39 total).
A week later, the Panthers were in a one-score game with the Bucs in the fourth quarter, and lowly Carolina found 110 yards rushing on 26 attempts in that game.
Head coach/defensive playcaller Todd Bowles is a stop-the-run-first guy, but that might be changing this season. The drafting of Logan Hall wasn't done to tighten the run defense, and neither was the team standing down when it comes to re-siging Ndamukong Suh.
Defensive backs Logan Ryan and Keanu Neal are strong tacklers, but it's unclear how much they'll see the field.
The Bucs really need Lavonte David and Devin White to have rebound seasons. Not that they were bad, but both can play better. Joe Tryon-Shoyinka learning to play the run after a rocky rookie season in that role would help immensely, too.