Coach's Challenge To Antoine Winfield: 7 Interceptions
May 3rd, 2022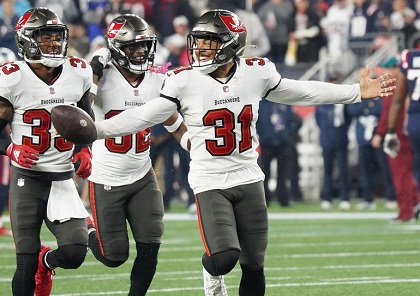 Bucs Pro Bowl safety Antoine Winfield, Jr., is a hell of a player and, unfortunately, the face of the gut-punch loss to the Rams in the playoffs.
Old school Bucs fans might agree that Winfield's tie to that brutal play almost feels like Lavonte David's connection to the gaffe that closed opening day against the Jets in 2013. David got past that because he has a professional approach to the game, and Winfield is the same way, his position coach Nick Rapone said today at One Buc Palace.
Everything about Winfield's worth ethic is top shelf, Rapone said, but he's got to get better.
And the challenge delivered to the third-year man is to start picking off passes like the top safeties in the game.
"Let's start getting six or seven interceptions a year. Let's make that the next step," Rapone said of the goal he put before Winfield.
Winfield has three interceptions in 39 career starts. He's actually got more sacks (5) than picks.
"We know you can blitz. We know you can tackle. We know you can pass defend. Let's get the football a little more," Rapone explained.
Production. Production. Production. Joe is confident that Winfield can be at least a four-interception safety, and do more damage on blitzes.