Chris Simms: Blaine Gabbert Is A Top-48 Quarterback
May 19th, 2022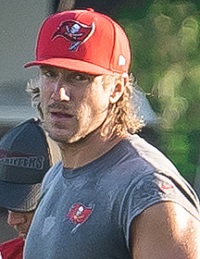 It's always fun when former Bucs quarterback Chris Simms gives JoeBucsFan.com a formal segment on his stellar Unbuttoned podcast for NBC Sports.
Thanks, Chris!
A true quarterback film guru, Simms is in the midst of churning out his annual quarterback rankings. It's a top-40 affair this year and Joe was wondering whether Blaine Gabbert would make the cut.
After all, Bucco Bruce Arians says Gabbert is one of the most underrated players in the NFL and has starter talent. So it was reasonable to think Gabbert might show up on a top-40 list in a 32-team league.
Well, Gabbert was a no-show on Simms' list when Nos. 36 through No. 40 were revealed. So Joe sarcastically alerted Bucs fans via Twitter to not hold their breath for Gabbert to appear in the No. 31 through No. 35 group.
"I love that JoeBucsFan," Simms said began. "What up, my man?"
Simms doesn't like the mixed backup-quarterback messages coming out of Tampa, he said, but his rejection of Gabbert is about proving it on the field.
"So Blaine Gabbert, I know the talent. It is real. I get it," Simms said of the 10th overall pick in the 2011 NFL Draft. "I guess what I would just say is I haven't been able to really see him play in a real situation in a long time. So that's hard for me to just say, 'Ok, I'm going to throw him out there on the list.'

"… I know he has real talent. He was on my final 48 or whatever. But it's just like I haven't seen him do it. And that's the hard part for me with this list and guys like that."
Joe hopes Kyle Trask finds a way to make Simms' list next season.
Enjoy today's Ira Kaufman Podcast! The Sage of Tampa Bay sports has plenty to say after the Bucs' first OTA practice of the year.