Best Tom Brady Protection — In Forever
May 25th, 2022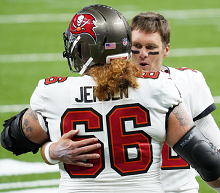 Joe always has maintained that Tom Brady will want to keep playing for the Bucs as long as — first and foremost — his offensive line stays mighty.
In fact, one could argue Brady's O-line is the very best he's ever played behind.
The Bucs combined to allow 43 sacks over the past two seasons. That's the best total in the NFL in that time.
The best previous two-season total for Brady was 41 sacks through the 2009 and 2010 seasons. However, Brady was dumped on about 3.6 percent of his dropbacks in those years. For the 2020 and 2021 Bucs, The Goat was dropped on 3.1 percent of his dropbacks, the cleanest run of his career.
Joe has no doubt that Brady knows the numbers. And it's a huge reason he unretired.
Keep an eye on those sacks numbers this season. Not only will they be a key to winning, but they'll be crucial to any hope of a 2023 version of Brady in Tampa.