Absent Bruce Arians
May 19th, 2022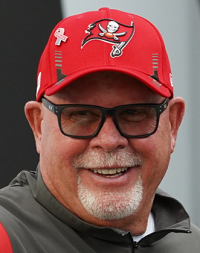 The official Buccaneers website lists Bucco Bruce Arians as "Senior Advisor to the General Manager."
Joe is starting to think a better title would be Head Coach Emeritus.
Session No. 3 of spring OTA practices ended today and Joe has scrolled through the hundreds of official team photos from all three sessions. Lots of coaches are seen, but Arians is not in any of the photos.
(Media was only permitted by Todd Bowles to attend Session No. 1. Keep that in mind when you hear conclusions from media types about overall OTA performance. Media will only be able to watch 30 percent of the 10 sessions.)
Arians wasn't spotted at rookie minicamp, either.
Joe is not knocking Arians, but Joe is a little bummed out that Arians isn't more visibly involved. After all, Arians said multiple times that he would do whatever Todd asks him to do.
Front office staff typically watches practice, so it's not like Arians doing that wouldn't fit his title.
When Arians was head coach, he talked at length about the importance of OTAs and getting young players on multiple fields to maximize their coaching time and their snaps.
Joe believes Arians' eyes on Kyle Trask would be extremely valuable as Trask uses this time to develop. And Arians would be a nice sounding board for Bowles on the pace and energy of practice, along with Arians' ability to study the offensive players at work.
Maybe Bowles asked Arians to stay away temporarily so Bowles can cement is new role. And yes, Arians can always watch practice film and weigh in. Still, it seems more likely that Arians doesn't want to be around now and Bowles passed on asking Arians to do anything specific.
Joe is among the fans who sees Arians as a valuable asset that should be maximized.