A Leaner Tyler Johnson
May 20th, 2022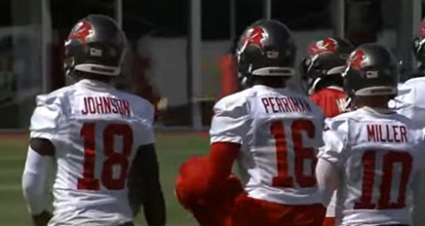 The Bucs roster has five receivers who earned one of those cool Tampa Bay Super Bowl rings.
That's a lot of experience.
One is Tyler Johnson, who caught 36 balls last season, 14 for a first down. The Bucs' 2020 fifth-round pick was the only Bucs receiver to play all 17 games, and he stepped up with two big first-half catches against the Eagles in the playoffs, plus clutch grabs on the winning drive against the Jets in January.
The fun part about that is Johnson didn't really have a good season. He was up and down and his hands failed him a little too often. So that sort of illustrates how talented the 23-year-old receiver is.
There's a divide at JoeBucsFan.com world headquarters. The Joe typing here believes Johnson has produced, is maturing, and is poised for a bit of a breakthrough in 2022. The other Joe kind of writes off Johnson as an inconsistent and meh receiver who took a step back last season after screwing up by reporting to 2021 training camp out of shape.
It's hard to say what Johnson is to the Bucs offense, but Joe can say he looks to be in fantastic shape. Fresh practice photos and video at Buccaneers.com reveal a leaner Johnson, and at 6-1 he sure stands out among the many "Smurfs" in the Bucs' receiving corps.
Perhaps the greatest competition in Bucs camp is for the Nos. 4, 5 and 6 receiver positions.
Just imagine if Scotty Miller can recapture the quality of play and production he had in 2020, and Johnson can build off his January success, the Bucs would would have all kinds of quality and experienced options for Tom Brady.