A Fresh Leadership Scouting Report On Tom Brady
May 28th, 2022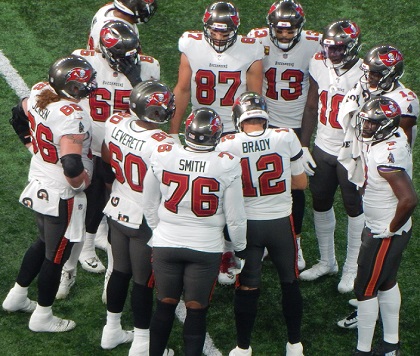 So how is Tom Brady raising the game of his teammates?
It's hard to quantify but one veteran Bucs receiver gave it a fresh shot.
Joe wrote about Scotty Miller opening up on the The Underdog Podcast. And Miller not only dissected his personal journey, he shared what he believes makes Brady so special behind the scenes.
"It's not just about working hard. One of the things Tom is so big on is you can work as hard as you want, but if you're not working on the right things, if you're not working with a purpose, that hard work ain't going to do nothing for you. You know what I mean? Everything he does is purpose-driven," Miller said.

"When we're out there throwing routes on air, he always says, 'We're not just out here playing catch. We're not just out here having fun playing catch. We're out here thinking about something, one or two things that you want to work on every single day and come out there with a purpose and a drive and let's work to get better. And let's help each other out while we're doing it. So I think that's what just makes Tom so great. All the little details, all the focus he puts on the little things. And he has every excuse; he's [reached] every goal you want to accomplish, he's done, he's got it. But somehow he's still outworking everybody."
Miller went on to describe how Brady is studying defensive backs' tendencies from two years ago and relaying tips to receivers. He also said Brady is great about telling receivers exactly what he wants from them in extreme detail.
Joe can't get enough of this behind-the-scenes Brady stuff. Joe sure hopes Kyle Trask is taking a lot of notes.