With The First Pick Of Round 2, The Buccaneers Select Logan Hall
April 29th, 2022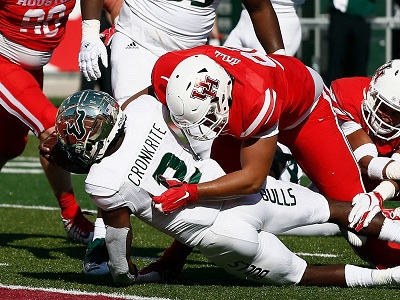 Our beloved Buccaneers traded out of Round 1 last night to land tonight's opening pick of Round 2, plus a fourth- and sixth-rounder on Saturday afternoon.
Apparently, the move was made to draft defensive tackle Logan Hall and load up on more talent.
Welcome, Mr. Hall!
Joe is fired up. Why? Because Joe trusts general manager Jason Licht, certainly when it comes to picking a defensive tackle.
Hall is a beast of a raw talent at 6-6, 283 pounds and a 4.88-second 40 yard dash.
Joe's intrigued that the Bucs probably had their eye on Hall for a long time after scouting his teammate, 2021 seventh-round pick linebacker Grant Stuard.
Hall has a strong get-off and hopefully he can bat down passes in addition to pushing the pocket.
Lance Zierlein, NFL.com film guru, says Hall is "a hard-working, two-year starter with projectable frame and developmental traits whose best positional fit could be in the eye of the beholder. Hall played defensive tackle in college, but his playing style and physical profile are better suited for defensive end in a 3-4 alignment. He's segmented and a little gradual in his attack, but flashes violent hands and forward charge as an interior rusher. Improvement lies ahead for Hall, but he needs a scheme fit and extended runway as a rotational lineman."
With the Bucs going defense here, maybe that means the Bucs are super confident Rob Gronkowski is coming back? And maybe it means Tom Brady wasn't banging on tables for another weapon or an interior offensive lineman?
Does the selection of Hall mean Ndamukong Suh will not return?
What a great situation the Bucs are for any rookie. A loaded veteran roster led by The Goat himself with a head coach that was just handed a five-year contract and a seasoned coaching staff.
If you can't develop on this Bucs team, then you're probably not going to make it anywhere.
Do not go away. The Bucs are back in about 90 minutes (if they don't trade up or back) with the 27th pick of Round 2.