Todd Bowles And A Carl Nassib Reunion
April 9th, 2022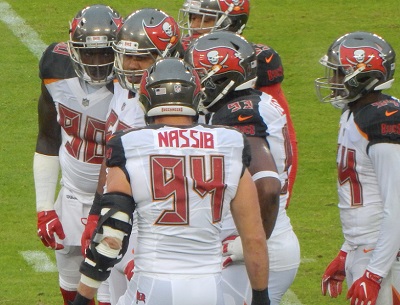 As the clock ticks on the NFL Draft, Joe is wondering how likely it is that Todd Bowles wants to bring back one of his favorite players from his first season in Tampa.
That player is edge rusher Carl Nassib. And indeed he was a favorite of Bowles and was voted team captain by his Bucs teammates during Year 1 of the Bucco Bruce Arians regime.
Nassib turns 29 this week and is a free agent. He was successful with the Bucs but left Tampa for big money with the Raiders in 2020. He largely was a part-time player there and was considered a cap casualty under the new Las Vegas regime.
Pulling from the JoeBucsFan archives, Nassib was a big fan of Bowles, too.
"Coach Bowles is probably my favorite coach," Nassib said in 2019. "Don't tell him this, but he's probably my favorite coach I've ever had. He's really smart and he knows football. A lot of time, you get a coach that just knows football, but he's got it all. He's an impressive person."
Nassib plays special teams and knows the Bucs defense. He had six sacks off the edge and a career high 34 tackles in 14 games here during that 2019 season, after 6 1/2 sacks in 2018. He might just be a cheap, quality depth piece for a Bucs edge rush that has a lot of question marks.
Joe realizes some fans will say Nassib being gay is a distraction and a potential problem, but Joe's not buying that.
With all the superstars on the Bucs roster, Nassib's old story isn't going to be a media obsession. Plus Nassib is known and respected by many guys on the team.