Steve McClendon: Everybody Knew Todd Bowles Was The Head Coach In Waiting
April 1st, 2022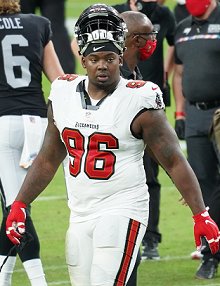 The oldest defensive player in the NFL last season played for the Bucs and it wasn't Ndamukong Suh.
Undrafted in 2009, defensive tackle Steve McClendon has forged a hell of a career for himself, with a huge chunk of it playing for new Bucs head coach Todd Bowles in New York and Tampa.
McClendon is an interesting dude, a business owner in Atlanta who continues to grind away to stay in shape and keep his football career alive. He even recorded his first career interception last season.
McClendon joined The Zach Gelb Show on CBS Sports Radio yesterday to talk all things Bucs and he was very happy about the head coach from Bucco Bruce Arians to Todd Bowles. He sees it as a win-win for the organization and the coaches.
However, McClendon said he can't imagine not seeing Arians as a coach when he sees him at One Buc Palace.
Very interesting to Joe was McClendon saying he wasn't surprised by Arians stepping down and Bowles stepping up. "Not really surprised because everybody knows Todd Bowles is a head coach and was the head coach in waiting," McClendon said.
Hmm, a very firm comment from a guy who knows Bowles well and who considers him a mentor. McClendon said Bowles has taught him so much about being a man, a father and a professional. Joe wonders if Byron Leftwich also knew Bowles was the Bucs' head coach in waiting?
McClendon is a free agent and wants to return to the Bucs next season. He said Bowles is amazing in how hard he works and how he sets a serious tone and work ethic, but Bowles is great about having fun on the job when it's time to take a break.
On a funny side note, McClendon said he won't call Tom Brady "The Goat" because he considers it disrespectful. "I'm not going to call him no animal."