Round 3 Grade For GM Jason Licht
April 16th, 2022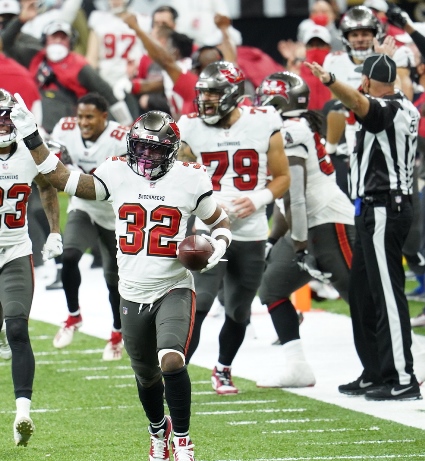 Time to get out the red pen (too soon?) and grade the record of Super Bowl general manager Jason Licht in Round 3 of the NFL Draft.
Grading a drafting record demands deep thought, including assessing moves that were made versus the ones that weren't.
It's also necessary to weight a team-building move versus a need or a best-player-available move.
Then there's the beastly elephant in the room: team record and a player's impact.
Injuries are sticky because while a GM can shoulder the blame for injuries, he typically boasts of having an amazing medical and training staff. And that staff evaluates prospects' health and performance to project and prevent potential injuries. So good health isn't all luck.
As Bucs fans approach Draft No. 9 of Licht's Tampa Bay tenure – it's time for Joe to man up and grade him.
2014 – Charles Sims
2015 – None (used for Ali Marpet trade-up)
2016 – None (used for Roberto Aguayo trade-up)
2017 – Chris Godwin, Kendall Beckwith
2018 – Alex Cappa
2019 – Jamel Dean, Mike Edwards
2020 – Ke'Shawn Vaughn
2021 — Robert Hainsey
Round 3 is very much about expectations. The draftee should make the team and at least contribute on special teams immediately. Becoming a thriving starter is expected, though a shade more than half leaguewide soon will be forgotten or busts.
Vaughn took a significant step last season, but he's proven to be no special teamer. Hainsey remains a mystery, but Licht's record before them is damn impressive.
Is it fair to hang the trade-up for Aguayo on Licht here? Yeah, Aguayo was not just a second-round mess. Several Pro Bowlers (yeah, several) were drafted between Aguayo and the end of the 2016 third round.
It's too painful for Joe to type the names. Ironically, the Saints signed undrafted rookie kicker Will Lutz, a 2019 Pro Bowler, at the close of the 2016 draft.
Sims was out of the NFL after his fourth season with injury issues. He was a force in 2015 but was no factor on special teams. Running backs Devonta Freeman and James White were taken in Round 4 after Sims.
Joe will give 2015 an "A" grade and 2016 an "F." And grade the Sims pick a "C-."
Licht was crushing it in 2017, 2018 and 2019. And Joe will give Licht a "C" for 2020 (there wasn't a flood of strong players taken after Vaughn) and 2021 is incomplete.
Joe grants Licht a "B" for his third-round work.