Richard Sherman Picks His "Steal Of The Draft"
April 9th, 2022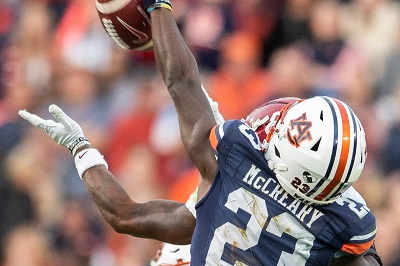 Cornerback Richard Sherman is no longer a Buccaneer (thankfully), but his podcast is still on Joe's regular playlist.
Sherman has been studying NFL prospects, likely in advance of a full-time media career, and he declared Auburn cornerback Roger McCreary out of Auburn "the steal of the draft."
McCreary has been knocked by the draft-guru crowd for having short arms. Sherman's film study of McCreary led him to say that's an "archaic" measurable and Sherman praised how sticky McCreary is in man coverage.
Sherman also loves McCreary's patience and how he showed up against NFL-level competition in college. Sherman added that McCreary shaking off a couple of bad plays and maintaining his technique and fundamentals immediately proves he's NFL-ready and it's a major positive rather than getting beat serving as a red flag.
Sherman also agreed with the premise that McCreary carries himself with the appropriate swagger needed for a corner, "Let your nuts hang."
At 5-11, 190 pounds with short arms, McCreary is not the long corner that general manager Jason Licht seems to prefer. But if his coverage skills are that good, then Joe's is Sherman's camp. Ignore the ruler.
It appears that McCreary could be in line to be an early- or mid-second-round pick.