"I Wanted To Let Him Go So Bad"
April 7th, 2022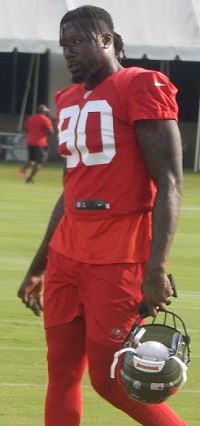 Unlike most folks covering the team, Joe is a Bucs fan and is proud to admit it rather than pretending to be neutral.
So of course Joe has been watching the latest In The Current series produced by the Buccaneers and available at Buccaneers.com. What fan wouldn't watch this great production? It's in the Hard Knocks style, minus anything naughty or anything that reflects poorly on the team, and is always a must-watch.
In the latest episode, the depth of Jason Pierre-Paul's early-season 2021 injuries was explored. JPP broke his finger and tore the rotator cuff in his left shoulder. It becomes clear just how much JPP was working around his bad shoulder and against the Bears in Week 7, a tackle JPP made while holding the jersey of Bears QB Justin Field was featured.
After the play, JPP is seen talking on the bench, explaining what a challenge it was to make the tackle using his left hand. "I wanted to let him go so bad," JPP said.
Think about that. A ferocious pass rusher isn't thinking about breaking a guy in half or ripping his jersey off; his mind is telling him to release his hand because it's too painful and/or too weak.
The more Joe watched this episode, the more Joe wondered how much better the Bucs might be off the edge this season without JPP struggling so much.