"He's Making Sure Everybody Else Around Him Is Prepared"
April 10th, 2022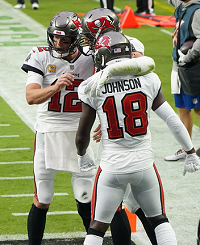 While many are discussing wild theories about Tom Brady owning/running/quarterbacking the Dolphins, last Joe checked Brady is a happy Buccaneer and a QB riding a 22-5 run.
And in the spirt of celebrating Brady on this beautiful Sunday, Joe is sharing a nugget from departed Bucs starting guard Alex Cappa. He chased the free agency money with the Bengals after shunning Brady's pleas to return to Tampa.
Cappa recently talked to retired Bengals offensive lineman Dave Lapham on his podcast about what's like to play with Tom Brady. Of course, Cappa gave the expected love, but he explained that Brady is so dialed in to making players around him better, and Cappa said Brady succeeds in that quest.
"Not only is he prepared, he's making sure everybody else around him is prepared," Cappa said before re-emphasizing Brady is dialed in on "everybody."
With another year of chemistry with Bucs receivers and a third-year comfort level in the Tampa Bay offense, Joe wonders how much Brady will branch out this season to try and squeeze more efficiency and greatness out of the Bucs defense and coaches.
Perhaps Brady will feel more free in that realm without Bucco Bruce Arians around, and it feels like that would be the natural progression for Brady. Joe would love to see Brady get more in the heads of Devin White, Joe Tryon-Shoyinka and Cameron Brate, to name a few.
Cappa went on to say brady is "a very authentic guy" who doesn't BS teammates and that is another key to his leadership. He said Brady is the kind of guy that you can ask an Xs and Os question during the week, and he'll reply that he's unsure of the answer and then actually get back to you later with what you need.
Definitely feeling a pre-BBQ Arcus Pale Ale vibe.
Might be the best drink-with-a-steak beer from @BigStormBrewing pic.twitter.com/mkMBQctRDg

— JoeBucsFan (@JoeBucsFan) April 10, 2022