"He's Been There And He's Seen How Not To Do It"
April 7th, 2022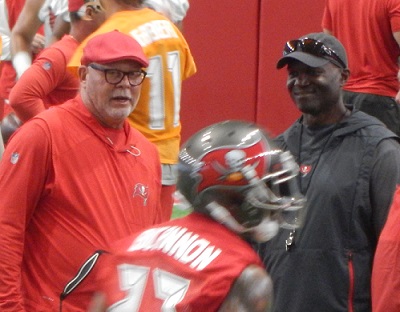 For the five total seasons Todd Bowles was Bucco Bruce Arians' defensive coordinator, Arians' teams were a combined 52-29 in the regular season, plus 5-2 in the playoffs.
So Bowles has watched Arians coach his way to winning 65 percent of his games with the Cardinals (2013 & 2014) and the Bucs. For those wondering, that's a Hall of Fame-level percentage.
It's Bowles' Buccaneers team now, but Arians flexed a bit on 98.7 FM in Phoenix yesterday when asked why Bowles will be successful.
"He's been there and he's seen how not to do it," Arians said, referring to Bowles' four years leading the Jets.
Arians said he's excited for Bowles because he takes over the Bucs without needing a "feeling out" process; he knows all the coaches, players and the front office. "He can change what he wants to change but he knows the system works," Arians said.
Joe thinks Arians is on the money, and it represents added pressure on Bowles. There's no reason to fail with this Bucs roster in a weakened NFC. Win the division, finish with a No. 1 or No. 2 seed and at least get to the conference Championship game. Barring an injury to Tom Brady, that's the bar for Bowles.