Grading Jason Licht — Round 2
April 14th, 2022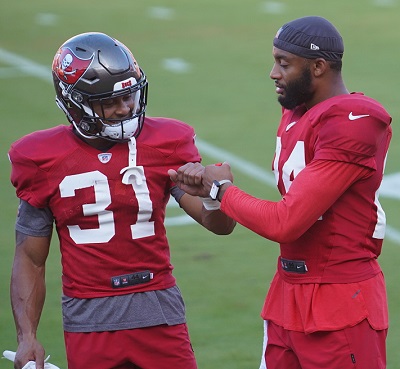 Time to uncap your red pen (too soon?) and grade the NFL Draft record of Super Bowl general manager Jason Licht.
Grading a veteran general manager's draft record is a fun exercise and not so easy. It's tough assessing the moves made versus the ones that possibly should have been.
It's also challenging to score a team-building pick versus a best-player-available selection. Then there's the reality meter: a club's record and a players' impact.
Injuries are an X-factor because while a GM can't really be blamed for injuries, GMs also proudly boast how they have elite medical and training staffs. And that staff evaluates prospects' health and performance to project potential injuries – and to prevent them.
So injuries can't just be written off as bad luck. Joe has heard the tired line many times, "Medical evaluation is the most important aspect of the NFL Scouting Combine."
Bucs fans are now entering the ninth draft of Licht's Tampa Bay tenure. So how is he doing in Round 2?
2014 – Austin Seferian-Jenkins
2015 – Donovan Smith, Ali Marpet
2016 – Noah Spence, Roberto Aguayo
2017 – Justin Evans
2018 – Ronald Jones, M.J. Stewart, Carlton Davis
2019 – Sean Murphy-Bunting
2020 – Antoine Winfield, Jr.
2021 — Kyle Trask
Licht is drafting better than the league average in Round 2. Less than half are/were busts.
Yeah, Licht has dropped historic strikeouts deuces in the second round, but overall he has done well — two Pro Bowlers, Super Bowl starters and a wild card at quarterback. Even M.J. Stewart scored himself a free agent contract with Houston this offseason. Joe still doesn't know what the Bucs saw in Stewart to select him two picks before Davis and then-LSU cornerback Donte Jackson. But it all worked out.
Considering the rest of Round 2 taken after Murphy-Bunting, picking him was better than it might appear.
The Evans pick was aggravating at the time because the Bucs were desperate for a running back and didn't seem to know it, and that draft was loaded with special backs.
In Licht's second draft (2015), Joe thought Licht and former head coach Lovie Smith flashed major confidence ignoring offensive line in free agency and drafting Smith and Marpet to start immediately.
Joe has to hand Licht a B+ for Round 2. Have your say below.