Dax Hill A Lightning-Fast Defensive Back
April 22nd, 2022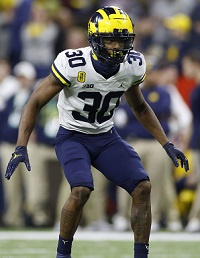 Joe has been hearing more and more chatter that Michigan safety Dax Hill might just be the Bucs' pick at No. 27.
 Joe had no interest in the guy because he is labeled as a safety. Don't the Bucs have enough of those? Then Joe was informed that this Hill ran a 4.38 40-yard dash. What? That's cornerback speed!
Well, Joe's research shows Hill projects as a nickel corner versatile enough — so good against the run — that he can pretty much play anywhere in the secondary if needed.
In fact, he looks and sounds like a bigger and speedier version of Antoine Winfield.
In Dane Brugler's "The Beast" draft guide at The Athletic, Hill is listed as his No. 2 safety behind only Notre Dame's Kyle Hamilton (who sure looks like the next Ed Reed).
SUMMARY: A three-year starter at Michigan, Hill lined up as the slot nickel in former defensive coordinator Mike Macdonald's man-zone scheme. His role and impact steadily grew each of the past three seasons in Ann Arbor, culminating in a standout 2021 season where he led the team in both passes defended and interceptions. Hill plays with the athletic twitch and transitional quickness to interchangeably play slot-man, deep safety or in the box and can just as easily lay licks in the run game as he can cover the slot fade. He displays the competitive temperament and awareness to smother in zone or man, although he can do a better job exploding through his target as a tackler or blitzer. Overall, Hill might not have elite size or length, but his versatile package of skills (athletic range, toughness, football IQ) make him the ideal nickel defender in today's NFL. He should be a rookie starter as either a split safety or slot defender.
Joe gets hungup on the word "safety." The Bucs may have too many safeties. Joe is much more interested in a corner at No. 27. Full-time. With Hill running faster than Carlton Davis and Sean Murphy-Bunting and having impressive skills and instincts, perhaps Hill can be trained to be a full-time corner.
Anyway, Hill is not shy about sticking his nose in the breadbasket of ballcarriers. That is very much a welcome trait at corner for the Bucs.
Below are Hill's highlights. (Damnit Jim Harbaugh, will you please stick with the maize pants? Why screw with one of the best uniforms in football?)