Chemistry Questions
April 18th, 2022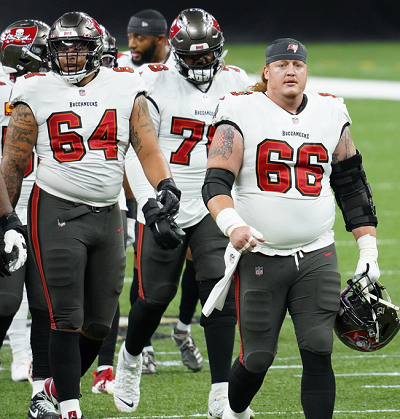 During the NFL Annual Meetings last month at the swanky Breakers resort in Palm Beach, Joe got a little one-on-one time with Bengals head coach Zac Taylor.
The discussion topic was not the failures of Marvin Lewis, it was Taylor's love affair with his new right guard, departed Bucs starter Alex Cappa.
In March, Cappa turned his nose at Tom Brady's plea and signed for bigger money in Cincinnati. Taylor told Joe that he could see how great Cappa's chemistry was with his fellow Bucs offensive linemen on film. And per Taylor, it was the kind of chemistry led by Cappa, not Cappa being a follower.
Joe pushed Taylor for specifics. Taylor didn't go too deep and struggled a bit while thinking of what seemed like a specific play. Regardless, the message was clear, Cappa's impact went beyond finishing blocks and standing up to the guy in front of him.
Offensive gurus routinely stress the importance of continuity on the offensive line. That's a big reason Bucco Bruce Arians arrived in 2019, looked at his inherited offensive line and said, "We're good." The whole band returned and Donovan Smith was given a fat contract extension.
At the time, many Bucs fans were convinced the O-line was poor and Smith was their top punching bag. Those fans were wrong.
So what about 2022 chemistry? Cappa is gone and Ali Marpet retired.
Aaron Stinnie will replace one of them but he has just four NFL starts to his resumé. The Bucs traded for guard Shaq Mason, but how long might it take Mason to feel fully comfortable? He could be rolling by Week 1, but it could take a month and Joe would understand that.
Then there's the wild card of the Bucs drafting a stud guard at No. 27 overall in the draft next week, a true plug-and-play beast that would raise the talent level and relegate Stinnie to the backup role he's thrived in.
Regardless, it'll be interesting to see if the loss of Cappa is the chemistry hiccup the Bengals' head man thinks it could be.