Glazer Liquidity And Tom Brady's Next Contract
April 5th, 2022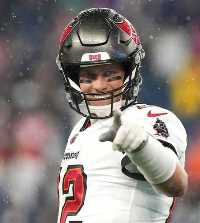 When Bucco Bruce Arians already knew he was stepping down as head coach of the Bucs, he oddly sat down for an extensive interview with NFL.com reporter Steve Wyche — and didn't mention it.
Within 48 hours, Arians was calling Todd Bowles to give him the job.
Wyche was on the other end of a microphone yesterday on 98.7 FM in Arizona and was asked about Arians' big decision. There were no great revelations from Wyche, but he did note that he went back to listen to his Arians interview after Arians quit the Bucs head coaching gig to see if anything stood out.
"He was fully behaving like he was going to be the head coach," Wyche said, but he added that Arians never actually talked about coaching the team but did speak about how it was "set up."
Wyche joked that Arians covering up his secret didn't have to happen. "Yeah, me and Bruce need to have a talk about that. Because I'm going to be like, 'Look, man, you could have said, No," Wyche said of the interview.
One thing Wyche discussed on radio particularly piqued Joe's interest, and that was how the buzz among owners at the NFL Owners meetings last week was all about the Deshaun Watson contract. It's a five-year, fully guaranteed $230 million deal. So, per NFL rules, Wyche said that means the Browns must put $230 million in escrow.
Many owners aren't that liquid, Wyche said, and the contract precedent Watson set could become problematic for teams because of the escrow rules.
So what about Team Glazer?
What if Tom Brady is telling the Bucs behind the scenes, "Give me more than Aaron Rodgers and Watson, three years for $155 million guaranteed and I'll extend my contract today. If I retire before the contract ends, then you won't have to pay me for that season(s)."
Joe's wondering if that hypothetical scenario — and the $155 million Team Glazer would have to cough up in cash — would be an issue for the Bucs.
Joe just hopes/prays that Brady extends his contract. The circus that would ensue if Brady was playing out the final year of Bucs contract would be an annoying and potentially unsettling distraction for fans, players and coaches.