Anthony Nelson Chatted With Tom Brady About Lesser Discipline With The Bucs
April 4th, 2022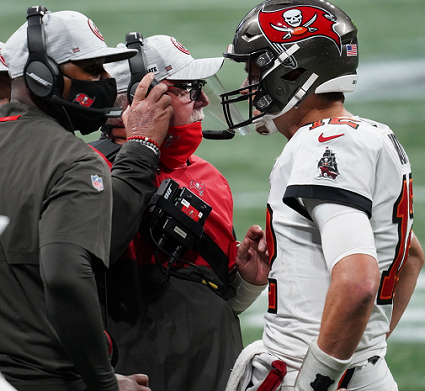 So how does it end up that legendary Tom Brady has a "conversation" with Bucs backup outside linebacker Anthony Nelson about how discipline and structure was a bigger deal at their last stops?
Considering that Nelson recently told the Sir Yacht podcast that he's "still in awe" of Brady daily, so Joe doubts Nelson walked up to Brady and said something like, 'Hey Tom, I bet you thought football was a lot more serious in New England."
Without being prompted, Nelson talked on the podcast about playing for Iowa head coach Kirk Ferentz and he mentioned how Ferentz coached offensive line for Bill Belichick with the Browns. Then Nelson said he had a "conversation" with Brady about "the Belichick tree of more discipline and regimented and all that stuff."
Interesting revelation in light of the last few weeks of wild Bucs happenings and rumors. Joe suspects Brady initiated the conversation with Nelson in some way to discuss how life under Ferentz and Belichick was a different and more structured animal.
Make no mistake. Joe has no problem with Bucco Bruce Arians. He's the best head coach in franchise history and there certainly is more than one way to win and prepare. What Brady thinks/thought is what really matters, and maybe Brady was yearning for change, rightly or wrongly.