Welcome Back, Breshad Perriman!
March 16th, 2022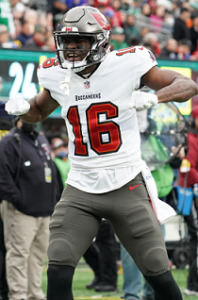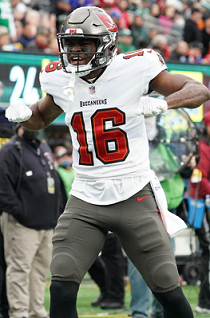 If you wondered whether Tom Brady liked the work of veteran Bucs receiver Breshad Perriman, wonder no more.
Perriman is back, re-signing to a one-year contract this morning. He joins Mike Evans, Chris Godwin (who has yet to sign his franchise tag), Scotty Miller and Tyler Johnson to go along with the new big-money signing of free agent receiver Russell Gage, plus Cyril Grayson and Jaelon Darden. Yes, the Bucs are loaded at receiver.
Adam Schefter of ESPN Twittered the news this morning but has yet to share the salary.
Perriman was a midseason addition to the roster last year and played in six games. He dropped a gorgeous touchdown pass but recovered nicely to finish with 11 receptions for 167 yards and a game-winning touchdown, plus a catch in the playoffs.
And he didn't quit on the Bucs and do jumping jacks on his way out.