Waiting On A Windfall
March 9th, 2022
BY IRA KAUFMAN
Chris Godwin isn't going anywhere this year — except to his jubilant financial advisor — and that's a good thing for Buc Nation.
But now Tampa Bay finds itself plumb out of franchise tag bullets for a 26-year-old wide receiver who stands to make $19 million this season. A third consecutive tag for Godwin in 2023 is out of the question because of the prohibitive penalty that accompanies a franchise tag hat trick.
The Bucs now have four months to work out a long-term deal with a Hines Ward clone. Ward's versatility and grit were a blessing for the Steelers. He made the tough catches over the middle, blocked his butt off and exemplified the physicality that Bill Cowher and Mike Tomlin craved.
For the final eight seasons of Ward's 14-year career, Bruce Arians admired him up close and personal as Pittsburgh's wide receivers coach or offensive coordinator.
Godwin goes about his business in the same fierce manner as Ward. In a league overrun with diva wideouts, Godwin and Antonio Brown couldn't be more disparate in terms of temperament.
Arians wasn't about to let Godwin test the free agent market because he would have aced it — even coming off knee surgery expected to keep him sidelined when the season begins in September.
Now comes the hard part because at this point, Godwin owns virtually all the leverage.
Godwin's agent just saw Mike Williams, another receiver from the 2017 draft class, sign a 3-year, $60 million deal to remain with the Chargers, with $40 million guaranteed.
If you're representing Godwin, you have every right to remind Jason Licht that your client is a significantly better player than Mike Williams … and you'd be right.
In 72 career games, Williams has 227 catches for 3,662 yards and 27 touchdowns. In the same amount of games, Godwin has caught 342 passes for 4,643 yards and 29 TDs.
Godwin has generated 60 more first downs, averages 14 more yards per game and boasts a catch rate of 71 percent, compared to 58 percent for Williams.
Williams is good, Godwin is elite.
Last Call
Knowing he won't be franchised again in 2023, Godwin can bet on himself to make a full recovery and enjoy a windfall next year as an unrestricted free agent. And if the Bucs don't land an established quarterback by July 15, Godwin will have even more reason to play hardball with Licht, who deserves ample plaudits for choosing Godwin in the third round as the 11th wideout off the board.
The Bucs didn't have a lot of good options on Tuesday. If they had allowed Godwin to test the market, teams with deeper pockets than Tampa Bay would have lined up to lure him away from One Buc Place.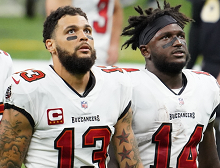 You think Mike Evans faces double-coverage now? Imagine what kind of crowd Evans would attract without Godwin working deftly out of the slot. Add in the uncertainty surrounding Rob Gronkowski and Tampa Bay's prolific passing game would likely be in tatters.
At least for now, Blaine Gabbert, Kyle Trask or a new arrival will have one of the NFL's premier tandems to throw to. Williams just joined a select group of receivers — DeAndre Hopkins, Julio Jones, Keenan Allen and Davante Adams — making at least $20 million a year.
Unless Godwin stumbles this fall, he's sure to cross that threshold in 2023.
The Bucs have some comfort in knowing Godwin is back, excelling at the dirty work that helps win football games. A prolific offense could have seen Tom Brady, Ali Marpet and Godwin all depart in the same offseason.
That's a horror show.
The clock is still ticking on Leonard Fournette and Alex Cappa, but Godwin's next reception will be as a member of the Buccaneers. That's a ray of sunshine amid the cloudy potential for a long-term deal.
Mike Williams just set the groundwork for the ground floor. Godwin's agent will undoubtedly ask for the penthouse.
How about a nice duplex?