Trading Scotty Miller
March 24th, 2022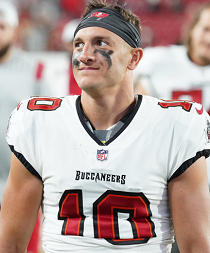 Before Joe gets rolling here, understand that Scotty Miller caught five passes for 38 yards as the Buccaneers led the NFL in pass attempts, yards and touchdowns during the 2021 regular season.
For whatever reason, it's fair to call Miller useless in last season's offense. Attribute it to an unmeasurable combination of Miller's foot injury, Tom Brady losing trust in him and the coaching staff preferring other players.
Throw in that Miller wasn't given a shot to return punts despite the troubles and injuries to rookie returner Jaelon Darden, and it all makes Joe wonder why Miller should stay in pewter and red.
Joe is trying to be realistic. Miller is entering a contract year and he's way down the depth chart. The regime loves receiver Cyril Grayson and the quick re-signing of veteran speedster Breshad Perriman this month was telling.
Where does Miller stand now? Is he battling for a No. 6 or No. 7 receiver gig? If the Bucs even carry that many receivers?
The fun thing about Miller is his elite speed and his breakthrough season of 2020. He was a true deep threat and that has value in NFL circles. So Joe is wondering today whether perhaps it makes sense to explore a trade for Miller before the NFL Draft.
Maybe an intrigued team out there is willing to cough up an early fifth-round pick that general manager Jason Licht can use to trade up next month? The Bucs traded their fifth-rounder away for guard Shaq Mason.
Joe is a Miller fan, but Joe is no fan of keeping a player that the team plans to bury on the bench.