Trading Kyle Trask
March 26th, 2022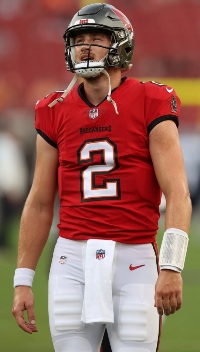 Joe will annoy a lot of Bucs fans here. It's unintentional, but when a team says it's all-in on winning now, then Joe has to buy-in and explore accountability regarding that statement.
Joe attended the NFL Scouting Combine this month and the implication from the Buccaneers' power-hitters there was that second-year quarterback Kyle Trask — a second-round draft pick last season — would be the No. 1 quarterback prospect in the 2022 NFL Draft.
In other words, Trask would be in high demand right now if he were available; teams would be angling to grab him and looking at moving up to get him near the top-10 picks.
So Joe has to put it out there. If that's accurate, then Trask probably could fetch a strong second-round pick or a first-rounder right now. He would come to his new team with three years remaining on a very inexpensive contract following a year developing under Tom Brady, Byron Leftwich, Tom Moore, Clyde Christensen and the quarterback whisperer himself, Bucco Bruce Arians.
If Trask's enhanced value is indeed reality, and the Bucs are really all-in to win in 2022, then Joe would trade Trask in a heartbeat.
Hypothetically, say there is no first-round taker but Seattle is willing to cough up its No. 40 overall pick for Trask (high second-rounder). That would give the Bucs, already with the No. 27 overall pick, fantastic ammo to move up in Round 1 or leapfrog back into Round 1 for an additional first-round choice next month.
Joe finds it hard to believe that's not worth considering with Tom Brady back on the roster, Arians in love with Blaine Gabbert and nobody knowing how many years Brady will stick around.
Nothing typed here is a referendum on Trask. Nobody knows his capability in NFL game action. But again, if the Bucs are all-in for 2022 and Trask's market value is inflated to the point where the Bucs could get a true premium draft pick, Joe believes it has to be strongly considered.