The Deshaun Watson Price Tag
March 12th, 2022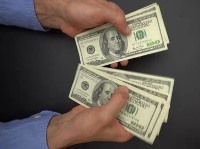 This post is not about the Bucs' light wallet when it comes to competing with three other NFC teams possibly seeking to buy/pry creepy quarterback DeShaun Watson from the Houston Texans.
This post is about Watson's fat contract.
Most long-term contracts for Pro Bowl quarterbacks turn out to be an excellent deal for their team, though Watson's contract might not be the most team-friendly, and it could give the Bucs a lot of short-term (2022) pain. (Of course, Tampa Bay would have to pull off a blockbuster trade first.)
Much like the Falcons did yesterday with Matt Ryan, the Bucs could try to convert Watson's meaty 2022 contract into a signing bonus and spread the pain over multiple years.
ESPN contract guru Field Yates laid out Watson's salary spreadsheet via Twitter below. It's probably quite a bargain by the time 2024 rolls around, so the Bucs probably wouldn't hesitate to kick some of Watson's salary cap charge down the road.
However, Joe is wondering about Watson's no-trade clause. Would that transfer to his next team?
Joe thinks Team Glazer might be uncomfortable with Watson keeping his no-trade clause. Imagine dealing a massive package of draft picks (at least the equivalent of four first-round picks) and then not having full control of the asset you acquired — one with some personal issues and no track record with your team.
Deshaun Watson's contract would be as such for a team acquiring him in a trade:

2022: $35M salary, $35M cap hit
2023: $20M salary, $17M roster bonus, $37M cap hit
2024: $32M salary, $32M cap hit
2025: $32M salary, $32M cap hit

— Field Yates (@FieldYates) March 11, 2022