Thank You, John Clayton!
March 19th, 2022
Podcast (toddcast-todd-wright-podcast): Play in new window | Download | Embed
Subscribe: RSS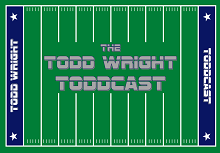 In this edition of The Todd Wright TODDcast, Todd reflects on the wonderful opportunity he had to know and work with John Clayton at ESPN. The Todd Wright TODDcast is presented by Brandon Legal Group and Bill Currie Ford. Click above to listen or to download. Or listen on Stitcher here, Google Podcasts here, and on other platforms.
PRESENTED BY