Flipping The Draft/Free Agency Script
March 4th, 2022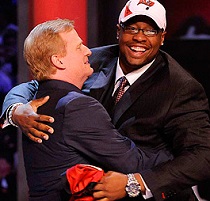 Imagine how much simpler the Bucs' pending free agency decisions would be if the NFL would just alter its offseason schedule.
Joe believes the thinking man would agree that the NFL Draft should come before free agency opens. But it doesn't.
Having the draft first, say the last week of March, would allow teams to get their hands on rookies sooner and also let them know their exact needs in free agency. The draft is more unpredictable than free agency, so let that play out first. Besides, rookies need more time with the team compared to veteran free agents. The extra few weeks for newbies can make a big difference in their adjustment.
Imagine if the draft came first this season and the board fell to the Bucs with a steal of an edge rusher in Round 1 and, say, a defensive tackle they were targeting in Round 2. The Bucs' free agency priorities sure would become clear in a hurry. Or suppose the draft fell to Tampa Bay with a guard they loved in Round 1 followed by a man-coverage cornerback in Round 2, then that would be an entirely different Bucs free agency approach.
Joe thinks this leaguewide change would spark more furious bidding in free agency because teams would feel more desperation. They wouldn't be able to say, 'Well, if we don't get him, we'll replace him in the draft." It would certainly make free agency even more interesting.
Bucs general manager Jason Licht has what feels like a crazy complicated slate of decisions and if-then scenarios in front of him as we sit here 10 days from the free agency siren on Monday, March 14, at noon.
All those Licht options got Joe thinking today about Joe's old wish of having the draft before free agency.