Tyreek Hill Earns Another Peace Sign
March 23rd, 2022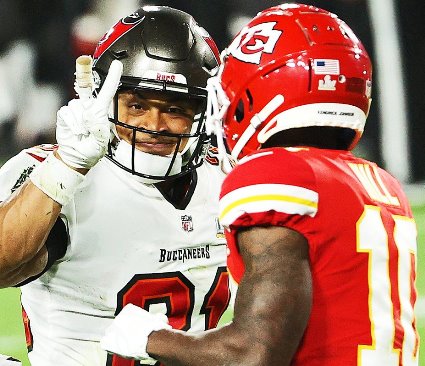 UPDATED: The iconic moment of Antoine Winfield, Jr., flashing a peace sign in the face of Chiefs receiver Tyreek Hill is a beautiful Super Bowl memory.
Today it is warranted again.

Reports have been flowing this morning that Hill, the six-time Pro Bowler, has been granted permission to seek a trade from Kansas City. It's a contract issue; Hill wants a new one and it's not for as much as the Chiefs want to pay.
Per ProFootballTalk.com, the Jets and Dolphins are very interested. And ESPN later called it a done deal, Hill is now Miami property.
Joe is all smiles. First, the Bucs play the Chiefs this season. Kansas City minus Hill is not the same threat. He's not replaceable unless the Chiefs find an incredible gem in the draft. Second, this is all so fitting that it's happening to Hill, like his arrogance got the best of him.
Joe can already hear the skeptics saying this could happen soon with the Bucs and Tom Brady. It won't. Nice try.