Drafting An Offensive Lineman In Round 1
March 30th, 2022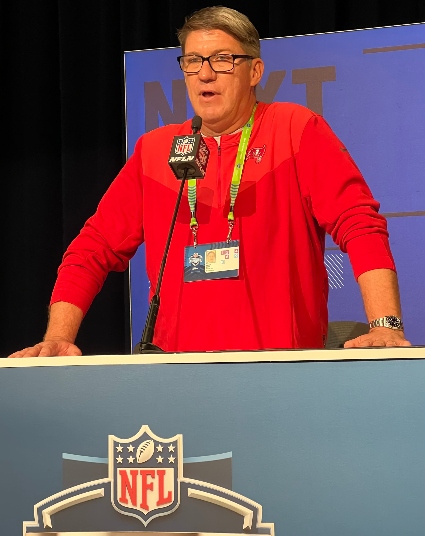 It seems Bucs general manager Jason Licht and Chiefs head coach/personnel guru Andy Reid have something in common.
And it's not because the two worked together with the Eagles.
That was the word delivered to Joe yesterday during a sun-soaked chat at the NFL Owners Meetings in Palm Beach. It came from a guy with strong and direct ties to front office executives around the NFL (whose name Joe is not sharing) .
In a discussion about the bottom of the 2022 NFL Draft (the Bucs have the No. 27 overall pick), the insider was very clear about how overlooked the loss of Ali Marpet is on the Tampa Bay roster and how much the team needs to get younger and deeper on its offensive line, especially if it hopes to keep Tom Brady for many years and maximize what might be the best threesome of receivers in the NFL: Mike Evans, Chris Godwin, Russell Gage.
The source talked about how Reid and the Chiefs now have the 29th and 30th overall picks as a result of trades, and combined with Licht at No. 27, that represents a great example of how excellent teams — ones picking that low — routinely reload in the trenches at those positions while other teams feast on players "you have to draft" but know have a higher bust potential.
A can't-miss guard/center like Zion Johnson out of Boston College, he said, is the perfect match for former college offensive linemen like Licht and Reid.
"Jason is going to have a very hard time resisting Zion. So will Andy," the source said. "He's perfect for those guys short term and long-term.
Bucco Bruce Arians said on Buccaneers.com that he loved the trade for guard Shaq Mason because, "we wouldn't have to go into the draft and have to say, hey, we've got to draft a guard to start."
Joe's not doubting the ability of Aaron Stinnie to fill in at left guard for Marpet, but nobody knows how Stinnie will hold up through a full season. He's never been a full-time starter.
What a huge luxury it would be for the Bucs to bring in a blue chip offensive lineman like Johnson and let him try to win the left guard job.
It may make more sense to add a defensive tackle in Round 1, but the O-line argument can be made successfully and Licht has had a ton of success picking at that position.
Enjoy The Ira Kaufman Podcast, Tuesday Night's Episode!