Bucs Have 3 Of The 30 Highest Paid Receivers
March 18th, 2022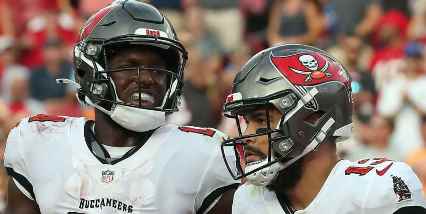 There's a lot of lying around the NFL this time of year, but numbers never lie.
And the Bucs' salary numbers tell quite a story. Among the 30 highest-paid receivers in the NFL for 2022, the Bucs have three on their roster: Mike Evans, Chris Godwin and newcomer Russell Gage.
Think about that … in a 32-team league. A passing league. Plus the Bucs seem ready to re-sign their Hall of Fame tight end to top-10 money at his position.
Also, Tampa Bay has three big-money offensive linemen, likely three of the top 45 salaries at their position.
That's how much the Bucs are committed to the offensive side of the ball, as they should be with Tom Brady.
If free agent Leonard "Lombardi Lenny" Fournette wants top-10 running backs money, then that would mean he's holding out for $7 million per season, double his 2021 salary.
Joe couldn't argue with Lenny's demand, but can/will the Bucs afford it? Or be willing to commit those kinds of resources to one side of the ball?