Bruce Arians Wants A New Breed Of Defensive Tackle
March 2nd, 2022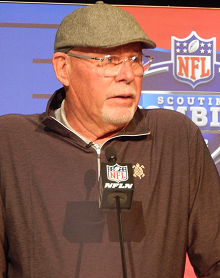 Everybody knows what Vita Vea brings to the table, brute strength, power and versatility for a 350-plus pounder.
But what about what the Bucs want next to him?
The 2022 NFL Draft is supposed to be rich in defensive tackles, so Joe asked Arians what he's seeking at the position.
"For us right now, it's quickness. You know, we've got strength – we've got plenty of strength – we need some quickness in the interior pass rush," Arians said. "We've got a good outside pass rush, so for us it's watching these guys and seeing who [has] inside interior pass rush, but who is still stout enough to stop the run. But we don't need another Vita. There's not another one out there anyway, but we need — if we get our guys back, I'm fine too – but something quicker in there."
Will Ndamukong Suh return for his fourth Tampa Bay season? Joe doubts it (after chatting with various Bucs folks at the NFL Scouting Combine), unless Suh is willing to take a serious pay cut. Suh and Rakeem Nuñez-Roches certainly aren't known for their quickness, so perhaps this is a tipoff to a true need the Bucs believe they have that can be filled in the draft.
Joe remembers when sixth-round pick defensive tackle Khalil Davis was selected in 2020, Bucs coaches said he had the most explosive get-off on the team, and they lauded his quickness.