The Bucs And B.J. Hill
February 16th, 2022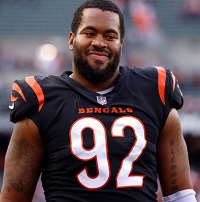 Joe is unafraid of the Bucs getting younger and replacing some of their old men.
Great teams and general managers don't cling to the past and fear change.
Joe types that with Ndamukong Suh in mind. Excellent player, strong leadership type, historically durable. But Suh also is 35 years old, on a limited snap count, expensive and prone to some inconsistency.
Is it time to move on?
Joe thinks it might be, given the Bucs' many expensive priorities in free agency.
Enter Bengals playoff hero B.J. Hill. He's also more of a 3-technique-type defensive tackle like Suh, something the Bucs need alongside manbeast nose tackle Vita Vea.
Hill, 26, was stolen by the Bengals from the Giants via trade before the 2021 season. He has missed just one game in his four-year career, and the former early-third-round pick out of North Carolina State is hitting free agency at the perfect time for his wallet. Joe has seen projections that Hill will have multiple suitors and could command above $7 million per season.
Joe sees Hill, known for his work ethic, as a guy with relatively low mileage on his tires and a chance for the Bucs to get younger up the gut of their defense.
Signing Hill and drafting a second-round edge rusher would give the Bucs quite a new look and fresh legs for their front-7.
---
Ira Kaufman talks about this year's Hall of Fame vote in a new TAMPA TWO with Derrick Brooks. Another great production from The Identity Tampa Bay and Joe.