Levi Wallace And The Bucs
February 15th, 2022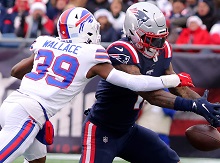 The annual free agency dinner bell will be more of a bugle call this year for the Bucs. Tampa Bay will be very active before and after fishing formally begins at noon on March 14.
One big fish in the Bucs' retention pond is Carlton Davis, the Bucs' best cornerback. The injury-prone 25-year-old will cash a Lotto ticket, but it's unclear whether the Bucs want to pay him like a top-15 starter.
Is he worth it? That's highly debatable when one considers the entire Bucs picture.
So if the Bucs cannot lock down Davis, would they chase a cheaper cornerback in free agency or invest in a premium draft pick?
Joe likes Bills cornerback Levi Wallace. He's long like Davis (six feet tall) and tackles extremely well. Like Davis, Wallace has six picks over the past three seasons. Undrafted out of the University of Alabama, Wallace seems to be slightly less of an athlete than Davis, but he certainly has had excellent coaching and experience in Buffalo and in college.
He also got time this past season as a No. 1 cornerback when the Bills lost Tre'Davious White. Wallace was very solid in the role but did struggle at times, including against the Bucs.
It seems like Wallace might command about half of what Davis will, about $8 million per year versus around $14 million for Davis.
Signing Wallace over Davis could help the Bucs retain other free agents, and fellow corner Sean Murphy-Bunting next season when his contract expiries.
General manager Jason Licht has quite a puzzle in front of him.