Jim Gray Isn't Sure Tom Brady Will Stay Retired
February 21st, 2022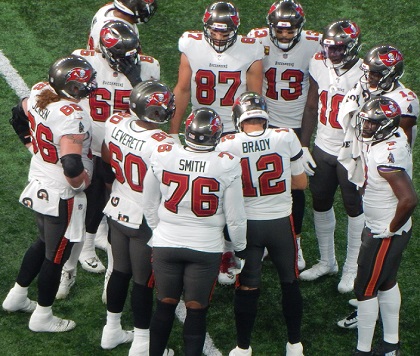 Tom Brady's longtime friend and radio co-host isn't sure The Goat will stay off the farm.
Joe's referring to veteran broadcaster Jim Gray, who co-hosts Brady's Let's Go!  show on SiriusXM Mad Dog Radio. Gray sucks up to Brady seemingly at every turn, worked with him on writing a book, and Joe would be surprised if Gray has ever said anything Brady doesn't approve of him saying.
So it raised Joe's antennae when Gray appeared on The Dan Patrick Show last week and said he isn't sure Brady will stay retired.
Gray was asked if he believes Brady's retirement is real.
"I do. I do. But I also believe that he doesn't know if and when that urge will come back, Gray replied. "So I think he answered the question to the best of his ability and really honestly when he said, 'Never say never.'
Gray went on speculate that Brady was retirement decision might have been more of a reaction to the moment and mostly about feelings. "… It's more of an emotional thing, perhaps, that he'll be 45 and doesn't want to get pounced on by Von Miller and Aaron Donald and these guys."
As Joe has written and said many times, nearly everything Brady says and does is calculated. And that includes refusing to slam the door on a potential return.
Hopefully the Bucs cling to his valuable rights and don't cave just to make Tommy happy. Joe has faith that Team Glazer is sufficiently ruthless and will do everything possible to have Brady play in Tampa, if he is willing.