Emmanuel Ogbah And The Bucs
February 22nd, 2022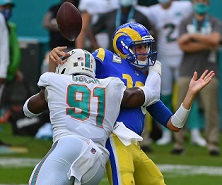 During most offseasons, Joe is found sitting at Hooters or a local Big Storm taproom pounding the bar and yelling "Pass Rush! Pass Rush! Pass Rush!"
Joe sees little reason to end that tradition.
No NFL defense saw more passes than the Bucs did in 2021. That's a league-wide nod to Tampa Bay's stout run defense. And nobody blitzes as much as the Bucs do, and that is a slight nod to their issues pressuring quarterbacks with four rushers, in addition to Todd Bowles' obsession with the blitz.
With Jason Pierre-Paul old and broken down, the Bucs could use a major upgrade off the edge as they figure out whether Joe Tryon-Shoyinka is the real deal.
Joe's eye is on pending free agent edge rusher Emmanuel Ogbah from the Dolphins. He thrived in their 3-4 defense, which had a lot of similarities to Tampa Bay's. One of the most bizarre, never-talked-about NFL stats of 2021 was Ogbah recording a dozen passes defensed to complement his nine sacks and stout run defense. That's more than most NFL cornerbacks!
Ogbah, 28, may not be wanted by the new Dolphins regime and he thrived in the Florida heat, never missing a game since leaving the Browns.
Ogbah (6-4, 275 pounds) might be available for, say, three years, $30 million with $25 million guaranteed. Joe would never bark at investing in the pass rush, especially while getting younger there at the same time. Never.